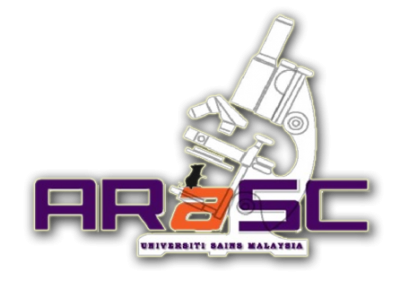 In line with the establishment of Universiti Sains Malaysia's Animal Research And Service Centre (ARASC), a logo was designed to ensure ARASC has its own identity. The centre's logo is the combination of symbols and letters.
ARASC is the English abbreviation version of the centre and the colours of the letters take into account the two primary colours of USM. The word ARASC is placed at the base of the microscope written with the university's name to illustrate that this centre serves as service support centre for laboratory animal based research and teaching as USM is one of the research university in Malaysia. The alphabet 'a' represents the 'animal' used as research model. The rat on 'a' symbolizes the common laboratory animal used at this centre.
The microscope signifies the centre's involvement directly and indirectly in the research and innovation by providing animal based research and teaching support services. While the microscope points of focus on the rat and the letter 'a' denotes that optimum management and animal care are the focal point of administration besides giving emphasis on the welfare of animals in the centre.